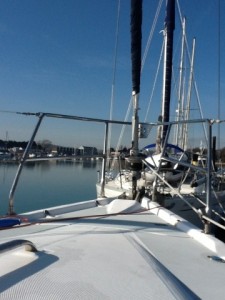 We could not have asked for better weather for our weekend away from DIY in late February, organised by Selene. Saturday was dry, calm and quite warm. However, Sunday was beautifully sunny and warm.
The great news is that Bembridge has been bought from the receivers and in new hands. The new owner is committed to a wide range of improvements, including :-
Dredging
Pontoon extension
New toilet block
A five year investment plan
A regular newsletter
A new website that will be kept up-to-date
A loyalty scheme
Lit entrance buoys
A walk to the infamous second hand book shop in St. Helens village for some of us, and for others, lunch at Tollgate Cafe and playing in the sand. We went to Brading Haven Yacht Club for dinner on the Saturday night. Excellent food and wine but most of all, great company.
Sunday was spent chilling out in the sunshine and doing jobs around the boats and then a warm motor back to our respective home berths.