South Coast Events 2012
06/04/2012 – 15/04/2012 Easter Jaunt to France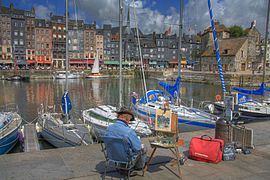 Our Easter jaunt across to France will be to either Cherbourg or Honfleur, depending on where the wind's coming from, or if it's too windy (force 5 or above), the Solent!
Our trips to France are an opportunity to fill up with wine for the year ahead. Also to soak up the ambience, food, and of course to partake in some liquid libation (you may be noticing a theme here!).
The trip will include some anchoring, marinas, BBQ's and anything else we can think of on the spur of the moment.
If we are going to France, initial thoughts are to leave at around 4am. This will help those with small children as we should be half way across before the little ones wake up. Sunrise is about 6:30 so it should be light around 5am ish.
We could not have asked for better weather for our weekend away from DIY in late February, organised by Selene. Saturday was dry, calm and quite warm. However, Sunday was beautifully sunny and warm. The great news is that Bembridge has been bought from the receivers and in new hands. The new owner is committed […]
The Area 15 rally crossed over to Cherbourg on Good Friday. 6th April 2012. with no shortage of excitement and drama. We started off with a nice early start from Portsmouth, leaving at 6am on a beautifully calm morning with the wind coming from the NE, meaning we would have wind up chuff all the […]